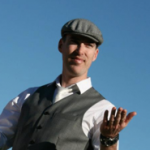 About Colin
Colin is a Personal Trainer who has been training clients professionally since 2009. Colin gained his Cert III and Cert IV in fitness through AIF in 2008/9 and later studied Pilates and Yoga specialising in Reformer and Clinical Pilates through Studio Pilates in Brisbane. Colin has recently added qualifications in Swedish (Relaxation) Massage to his skill set.
Colin's love of fitness started through playing numerous sports but it was his love of netball that moved him in the direction of Personal Training. Through playing netball for almost 20 years Colin was able to achieve the pinnacle of the sport by representing Australia on a tour of the Cook Islands in 2009.
Colin's true passion lies in helping people, and through his Personal Training and Pilates experience he is looking forward to helping many people achieve their recovery and fitness goals.
In 2017 Colin added qualifications in Relaxation Massage to his skill set.
Mums and Bubs Pilates
IC Sports Therapies
I have been doing a Mums and Bubs Pilates class with Colin and it is great! We have fun and exercise at the same time, something I would never have believed possible until I started this class. My almost 3 year old plays happily while my almost 1 year old stays in the class with me. Colin has magic baby skills and can often be seen holding my little girl after lulling her to sleep while instructing us mums. He tailors the classes perfectly depending on the mood of the small people and his happy and relaxed approach makes it a stress-free time for everyone. I would highly recommend this class for anyone who wants a full body work out or for anyone who has a small child and hasn't found a class that suits their nap times 🙂
Colin left IC Sports Therapies at the end of September 2018, so his Pilates and Personal Training services are no longer available.
SaveSave