I love this photo of Nicki and Declan with the beautiful paintings by Leeanne.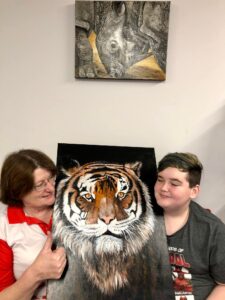 Nicki thank you for being an amazing friend for over 20 years.
Thank you for going above and beyond in treating Declan's chronic pain. And for all the hours and hours of research you have done to help him when we have that gut feeling that something else was going on… and it was!
Thank you for helping me through some of the toughest times in my life. Thank you for praying with/for me when everything was so overwhelming.
Thank you for teaching me it's ok to say no. It's ok to question what is going on.
Thank you for reminding me how strong I am.
Thank you for all your cheekiness! Oh the things you say and the reactions Declan gives are priceless.
You Nicki Cooke are seriously more precious than gold!
Nicki was knowledgeable and experienced.
I feel a definite improvement after only one treatment.
I felt welcomed, relaxed and cared for.
Looking forward to my next visit.
Nicki has a wealth of experience and technique, and magically knows just where to find the spot on my body that is the key to unlocking problems. I always look forward to my appointments with her, and leave feeling so much better!
Many years ago, I had a frozen shoulder and it never really healed to 100% capacity. Upon starting bodybuilding again this year, my shoulder became aggravated and painful during training and even doing normal everyday actions. I felt frustrated not being able to progress in training and having to constantly adjust the angle of my shoulder/arm even doing the simplest of things like closing a door behind me.
From the very first session with Nicki I experienced a release and gained more freedom of movement in the shoulder joint. A few months in and my training is progressing, I am free of the constant pain and I can close a door without having to angle my shoulder 'just right'! It's when doing the simplest of acts with no pain that I realised, hey, this is amazing.
It's not only the physical improvements that I keep coming back to Nicki and Steve, it's the honest to goodness love and care Nicki has for her 'family', her clients. She absolutely cares about you and will do everything in her power to help you become the best you can be. A healer, a humanitarian, a go-getter…Nicki is the one you will want in your corner to help you succeed in your rehab, sport or fitness goals.
Your impression of the facilities? New up-to-date techniques and equipment. The environment is clean and well presented. The staff are friendly and helpful.
Were your expectations met by the therapist, the office staff, and the facilities? Yes, I feel comfortable and relaxed in Nicki's care, knowing that Nicki "will fix it". She is an amazing lady.
Would you recommend this Therapist to a friend? Yes
Nicki worked on my back and neck so that I could go on my adventure. The pressure on my neck felt quite strong but it released well. My neck is still holding up well even after my outback trip.
Huge thank you to Nicola Cooke from IC Sports Therapies! Amazing results after lymphatic fluid drainage massage today! D. passed out from pain yesterday 9/10 he said.. now after the massage he can smile and says it's 5/10!!
Hi Nicki, the South African Rhinos <Over 50s Cricket World Cup> team has unanimously decided to give Sydney <their bejewelled rhino mascot> to you in appreciation of your support and service to the team and your passionate desire to make a difference to the rhino species. We know that you will cherish and nurture her… thank you again.
Thanks Nicki for helping me to prepare for Ultra Trail Australia Pace 22. With only weeks before the event, you helped me with those pesky plantar fasciitis and ITB issues (love Shockwave Therapy!) I beat my goal time and had an amazing time doing it. Bring on next year!
— at Ultra-Trail Australia.
Were your expectations met by the therapist, the office staff, and the facilities: Today has been a great day, why??? Well I met Nicki Cooke! I felt like I had a massage and a therapy session all one. REALLY looking forward to my next session. I have recommended her to my trainer.
Very happy with the treatments I have received from Nicki. She is thorough and very knowledgable in her area.
Been to at least a handle full of physio's Chiropractors and other specialists in my 6 years of training Brazilian Jiu-jitsu. I have found that for my long term recovery as well as prevention and understanding of what is actually nessasry for a healthy athlete to Excel in his or her chosen sport, face to face time is a huge importance! I get this as well as some amazing tips and advise so i can now live comfortably while also learning how to rehab myself
#HealthyBody #GB72 #MovingWell #ICSportsTherapiesHornsby #OverallHealth
Check out Nicki and her team for amazing results
TY for help!
Your impression of the facilities?
"This is my first visit to your practice and I was warmly welcomed by Steve who offered me a glass of water, or a cup of tea!
I felt very relaxed and hopeful that my aches and pains would be considered thoughtfully – a very calming atmosphere.
It was DK who told me and my husband about you, knowing my own problems. He was blown away Nicki by the difference you have made to his mobility.
I look forward to you being able to help me also to regain my own mobility."
Were your expectations met by the therapist, the office staff, and the facilities?
"They were indeed by all the above mentioned
Nicki found more knots and nobbles in the affected areas better than anyone else I have seen.
A magical touch. It was the best massage I have ever experience. There are no bruises and I feel my body respond to the massage by loosening up a little. The pain, of course, is still felt, but I know that will be reduced over the next few visits.
Many thanks indeed !!"
I finally got to see the tendons in my foot after only 2 sessions with Nicki following an avulsion ankle fracture and ligament damage as a result of motorcycle damage. I had begun to think the fluid in my foot would never dissipate and burst into tears when I finally got my tendons back! I can also finally fit into my shoes again after nearly 4 months.
After the first encounter with Nicki (who has a lovely personality) I say the treatment was very professional, with results obtained. I'd highly recommend treatment at this practice because of Nicki's professional approach and results.
Nicki came to the rescue for my daughter with severe disability. She had been placed in the 'too-hard basket' for many disability therapists but Nicki saw the potential and wanted to help relieve her pain. She took the time to build trust and now my daughter shows such excitement when she arrives for treatment and points Nicki to where it hurts most. Now grandmother, mother & daughter all rave about Nicki and the work that she does. Outstanding results with unrivalled compassion & kindness.
I had injured my hamstring playing soccer, and was definitely a little distraught thinking of the games I will be missing as a result. I went to see Nicki thanks to a beaming recommendation from a friend and although I walked in with a heavy heart, I left feeling as light as a feather bursting with excitement to play again. That same day I ended up training with my team without any problems whatsoever. I honestly have no words to describe it other than simply magic.
After undergoing major knee reconstruction, I believed I would never play soccer again. When a friend recommended Nicki, I was reluctant at first to reconsider playing. Now, I'm going really well! Have had no major issues, playing soccer and skiing without any problems with legs since beginning of the year.
Absolutely amazing! Nicki really does know her stuff and her decades of experience shows in sorting out my back issues. Rather than the usual pummelling of back and neck muscles, she uses knowledge and expertise and (dare I say) magic to find the tough spots.
I would highly recommend this practise. Nicki and her team are simply amazing!
A huge Thank You to Nicola Cooke for fixing my neck & getting that horrible headache under control so I can get thru this week. I'm glad we drove 2 hours to see you was worth it & was nice seeing you again. I feel heaps better today – can't wait till my next visit.
Nicki is a freak in the best possible way! She knows what's wrong with you before you do!
I have had plantar fasciitis for the past 8 years or so and I was really coming to my wits end with the discomfort and the pain. I just by chance mentioned this to Nicki, who was able to reassure me that she could remedy this for me. I have been to see her 4 times and in that time, I can say that my feet are so close to being normal that I am so ecstatic about it I want to tell the world, Hey try this lady!!! I would highly recommend Nicki to any of my friends and family.
Nicki really helped me recover from a knee reconstruction last year which I seriously believed would never allow me to able to play soccer again. However after just a few sessions I was able to begin to run again and ended up playing the majority of the following season. She gave me the self confidence to go back to sport and made sure my leg and muscles were at the condition to go back to playing a high contact sport. I would probably still not be playing sport today without Nicki's help, would and do definitely recommend her for injury treatment!
A huge thank you Nicki for working your magic on my painful knees so that I was able to enjoy my holiday in Tasmania. I was dreading the thought that I would be missing a number of tours due to the pain in my legs which was preventing me from walking, however, after a few sessions with Nicki, I was able to have a wonderful holiday.
I have been getting treatment from Nicola for the last 7 years, she is absolutely superb. She has got my body right time & time again so that I could play sport at my best. The most important thing is she works with you & gives you reassurance which make it easy for you to relax & trust her, which is half the battle. I wouldn't go anywhere else for treatment.
Even though she lives a million miles away Nikki is the only solution to all my injuries. She helped me bounce back in no time from my knee operation and she has magic in her hands…and heart
Been having massage for years due to a back injury 7 yrs ago, don't know what you did? Don't understand what you did? All I know is I haven't felt this way in years.
Thanks Nikko
Nicki does incredible work, she has worked her magic on myself and my family and has us back up and active very quickly. She really knows her profession and gets to the root cause quickly. I highly recommend her work for all muscle, tendon injuries and any rehabilitation needed. She operates a number of rungs above the rest in her field. She plays at the pro level in sports and other injuries. Try her and you will see for yourself.
Following a recommendation from a friend, I went to see Nicki after being messed around by chiropractors and wrongly diagnosed by other medical specialists. After 6 intensive sessions I am now back doing things that I couldn't do for more than 18 months of struggling with back pain and sciatica due to muscle spasm. At my first visit, Nicki pin-pointed my problem and following an hour of intensive treatment I was able to walk mostly normally again and even do light exercise on the treadmill. I still have days where I get muscle spasm but Nicki showed me ways I can ease this with simple exercises that will keep me going until I can visit her for more intensive treatment if I need it, and I have the confidence to get out and do things now, as I know that if needed then Nicki is only a phone call away. I have recommended Nicki to lots of friends and relatives and will spread the word to others who I can see will benefit from her help. I am not being paid or offered any other incentives to say this about IC Sports Therapies.
A very big thanks to Nicki, if it wasn't for her skills and experience half the (Indoor Cricket) teams would not have made it on court. It is the presence of having such a skilled and wonderful person at these events that make it possible for them to take place. Thanks again for your help and support Nicola Cooke.
I have been seeing Nicki for the last few weeks for back and leg pain. Never in my life have I ever felt so comfortable with a therapist before. I enjoy coming back every week and can not recommend her enough!
See a video testimonial by Courtney.
Went for my first appt with Nicki today after 3 months of Physio and chiro appts that haven't helped my back pain in the slightest but after an hour with Nicki I walked out feeling a lot less sore and confident that I've finally found someone willing and able to help!
After suffering back problems since I was 12 (over 15 years) and going through the usual drama of GP to physiotherapist and back to heavy duty painkillers, I was at the point where I was considering surgery and possibly unable to carry my own children while pregnant. I had not slept for 3 months due to constant debilitating pain and I couldn't feel the back of one of my legs.
Within a few sessions, Nicki had me pain free, with normal movement – and most of all, I was confident of the treatment and what effect it would have on my health.
I have been to many physicians in my time with injuries and Nicki is the only one that has made me feel positive, hopeful and assured of the outcome of my treatment. Nicki and her team always do the best by the patient and they truly live by their motto – easing the patient's pain is truly their pleasure!
We have been going to Nicki for many years… not only does she attend to your physical aches and pains with instant relief and improvement but she cares about you as a person, which is so nice.
The IC team… Nicki, Steve and Cath are great people.
Nicki has been my massage therapist for over 6 years. Quite simply, there is no equal. Awesome person, quality treatment that works!!
I've been in a lot of pain over the last few weeks and finally got time to see Nicki. I am now pain free. Thanks again.
After 18 months of "medical drama" which includes three major surgeries, two minor surgical procedures and countless doctors, surgeons and specialists, it is wonderful to find a practice that treats its clients as complete human beings, rather than just a bundle of issues to be fixed. Nicky and her team are compassionate and caring, and strive to treat and heal not only the body, but the mind and spirit along with it.
I have been to IC 3 times. Can highly recommend it.
Had a massage from Nicki after many (too many…) years of not seeing her and it was A.M.A.Z.I.N.G! So glad I get to be the first to comment on this great business' Facebook page. Professional, but relaxed, atmosphere to the place – definitely a place of caring and healing…
Nicki's knowledge of the muscular make up of the human body is incredible – she treats the root cause of the problems rather than the symptoms, which has meant that I have not missed a single day of cricket for the last 3 years.
(Updated 28/7/16) …and ten years later, I still haven't missed a day of cricket due to injury!
At all times Nicki strived to secure the best possible outcomes for players, is highly knowledgable and professional. A team could not wish for a more competent, dedicated therapist.
I have been a client of Nicola Cooke for the last three years. In this time she gave me hope when the Doctors said there was none.
As one of the top wheelchair athletes in tennis I have worked with Nicki on a weekly basis. She is the most qualified experienced and devoted therapist I have worked with. She shares an amazing passion and enthusiasm for her work and gets astonishing results.