Come and visit us at our Clinic in Hornsby.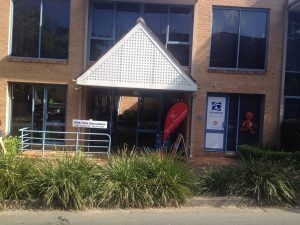 [wpseo_address show_state="1″ show_country="1″ show_phone="1″ show_phone_2="0″ show_fax="0″ show_email="0″]
  Add us to your Address Book

Look for our red flag out on the footpath. Go through to the central courtyard, and you will find our Clinic immediately on the right. It's on the ground floor, and is wheelchair accessible.
[wpseo_map width="400″ height="300″ zoom="-1″ map_style="roadmap" scrollable="1″ show_route="1″ show_state="0″]
Directions are also available from Apple Maps.
Parking
Please allow yourself plenty of time before your appointment to find a park.
There are four off-street parking spaces at the side our building, on Thomas Street, along with one space for disabled access. However, these spaces are in high demand, so try Thomas Street first, but be prepared to use parking off Albert Street, on Sherbrook Road, in Westfield, or in other local streets