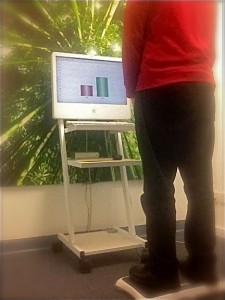 IC Sports Therapies are pleased to announce another first! We have an innovative new HUMAC balance assessment and treatment tool, and it is available to all our clients. This system is the first such unit in a private practice* on Sydney's North Shore, whereas these units are usually found only in University settings.
Balance Assessment
The new Balance System represents a breakthrough in computerised Balance Measurement and Training Systems. By coupling the Balance Software with the most popular balance board in the gaming industry, we are able to offer cutting-edge diagnostics and treatments for Athletes, Trainers, Physical Therapists, Exercise Scientists, Physiotherapists, Podiatrists, Doctors, etc.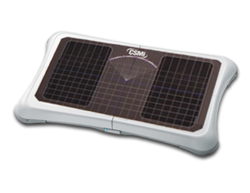 The Balance plate looks like a typical gaming board, but this one provides clinical grade accuracy. The Balance System is a static force plate combined with a Tilt system, allowing both static force and dynamic tilt measurements. These parameters are used in a variety of protocols to access and improve the capabilities of balance, orthopaedic and neurologic patients. In many cases the same display is used for all three types of patients, for both testing and exercise, on both stable and unstable surfaces. In addition, real-time biofeedback helps users better perform the exercises they are already doing, while making the exercises more engaging.
HUMAC Measurement and Training Routines
The HUMAC Balance System includes, amongst others,  the following Measurement and Training Routines:
Clinical Test of Sensory Input Balance (CTSIB). This tests how a patient's vision, vestibular and somatosensory systems interact, and if a deficit exists compared to a normal population. The patient is tested on both firm and unstable surfaces, with eyes open and closed.
Centre of Pressure – tracks a Patients' COP while performing exercises with eyes open or closed. This shows variations in a patient's Left/Right, Front/Back weight distribution while being tested.
Weight Shift – measures a patient's ability to shift their weight back and forth, while hitting targets and keeping within a target zone.
Limits of Stability – this testing mode has targets for a patient to move a cursor to, and then hold on target for a selectable time, before moving to the next target.
Roadway – reports a patient's ability to accurately weight shift, while keeping within the boundaries of a "roadway".
Weight Bearing – displays how weight is distributed right to left or front to back.
Tests can be performed anonymously, but individualised patient profiles can also be set up on the computer to track progress and results.This means we can test a patient, treat them, reassess them a few weeks later, and provide before-and-after comparison reports.
The Balance System retains all of the raw data collected from a test. Results can be reported using a standard Test, Progress, or Group Summary format, for reference by the patient themselves, or a referring doctor, physiotherapist or sports trainer.
Fun
The Balance System includes Down Hill Skier, Flight, Tilt Board, Breakout, and Pong games so Physical Therapy is always fun and exciting.
Get with the program
Be among the first of our clients to try it – ring us on (02)9477-3103 and book your time today!
* so far as we know.