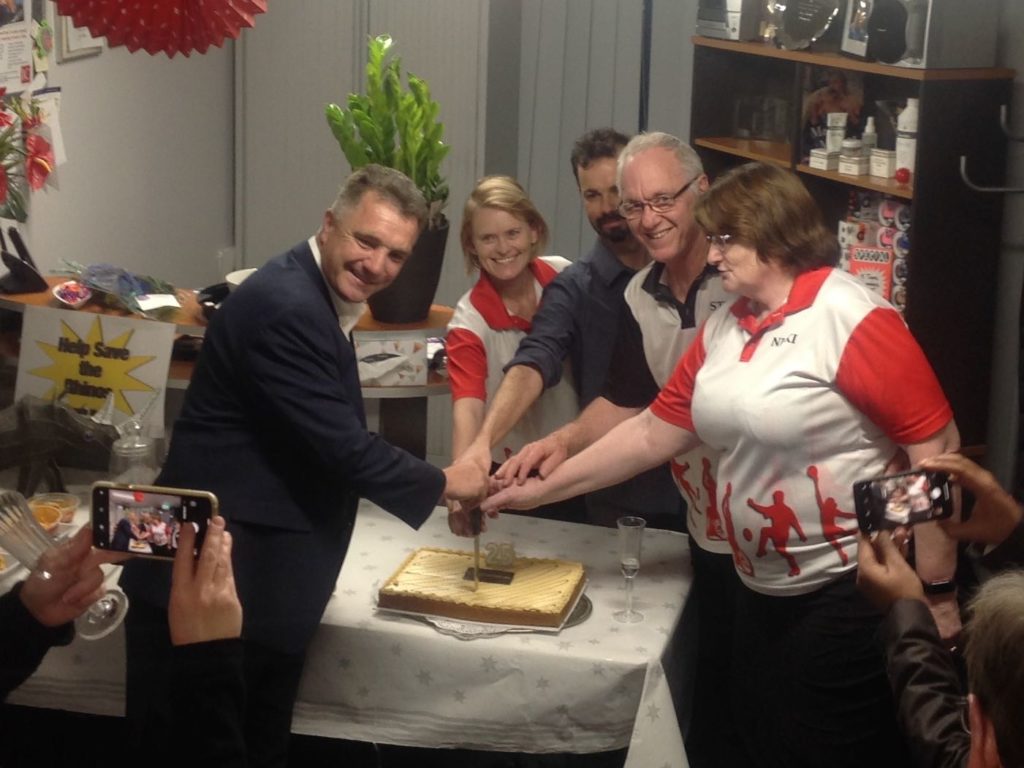 Nicki Cooke, principal therapist at IC Sports Therapies in Hornsby, celebrated her 25th anniversary as a therapist in the Hornsby area with cake, and by donating $4515 to help Save the Rhinos.
Nicki first established her practice 25 years ago, working from her home clinic in Hornsby Heights. Since then, she has worked with athletes in many sports, from the 2000 Sydney Olympics, to Wheelchair Tennis and Blind Cricket, and to Masters Indoor and Outdoor Cricket. 5 years ago, she moved her home clinic into Hornsby and established her current practice, IC Sports Therapies.
Through treating the South African team at the Over 50s World Cup Cricket last year, she was introduced to the Mark Boucher Rhino Legacy. 
Headed up by ex-South African cricketer Mark Boucher, The Boucher Legacy was started in 2012 when Mark retired from international cricket and began to focus his passion and commitment on wildlife conservation. The Legacy aims to protect rhinos by prosecution of poachers, by conservation work including tracking rhino, and educating people about the false claims that are made about the properties of rhino horn. The Boucher Legacy has recently begun to broaden the scope of protecting to endangered mammals as the war on poaching moves across a variety of species.
Nicki announced the donation before a crowd of well-wishers during a live video hookup with Ally Hewitt of the Legacy fund. The amount was raised by pledging $5 each from the more than 900 treatments she had performed so far this year.
Further donations from the general public to Help Save the Rhinos would also be welcomed.