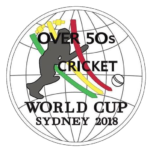 England has named its touring party for the 2018 Over-50s Cricket World Cup in Sydney. It is a full group, including two managers, two umpires and a doctor. The playing squad itself is a formidable one, featuring many of the top players from the very strong over-50s county circuit in England.
They have also received much-appreciated sponsorship from JBS, Serious Cricket, Grey Nicholls and Smile Group Travel.
England's first World Cup match is against Sri Lanka at Hurstville Oval on November 21.
Over-50s Cricket World Cup England Over-50s has a Twitter account. It is: https://twitter.com/CountiesEngland?lang=en. They can be reached at @countiesengland.
England Counties Preliminary Sydney World Cup Tour Party 2018:
Team manager, Peter Rider, England 50+
Assist manager, Ian Jones, England 50+
Scorer, Paul Bridge, England U 19's
Doctor, Ian Bishop, Devon
Umpire, Stuart Aitken,Middx
Umpire, Raf Patel, Essex.
Captain, Gary Loveday Berks
V Capt, Stephen Foster,Yorks
Players: Kevin Bradley, Yorks
Neil Brathwaite,Essex
Neil Burns, Essex
Sean Cooper, Suffolk
Andy Davis, Berks
Raja Hayat, Leics
Mel Hussain, Essex
Mo Fayyaz, Essex
Simon Myles, Berks
Nick Newman, Leics
Calvin Priest, Shrops
Jason Robinson,Warws
Duncan Watson,Herts
Mark Wilson, Yorks
Standby:
Scott Stratton, Sussex
Julian Poulter, Surrey
Mo Shahzanar, Yorks
David Snelgrove,Lancs
John Courtney, Gloucester
Part Travel sponsor-JBS
Kit sponsor-Serious Cricket
Part sponsor-Grey Nicholls
Travel operator-Smile Group Travel.